Career Posters
Free Career Posters for Schools and Colleges
In our mission to empower students to make well-informed choices about their futures, we've created a unique series of free career posters for schools and colleges.
Expertly designed with clear, engaging visuals, these posters serve as a versatile tool for educators, helping them illustrate key concepts in career education and guidance.
You'll find that each poster are ideal for display in your school and are designed for up to A1 in size for classroom display or printing smaller for personal use. All are available for you to download and print, whether that's in school or at a local printing service.
Explore our selection below and find the perfect poster for your career education needs
Gatsby Benchmarks Poster
Perfect for careers leaders and educators alike, this poster presents the 8 Gatsby Benchmarks in a reader-friendly design. Display it in your office, or use it to introduce staff and headteachers to the Gatsby Benchmarks, key parameters for good career guidance.
Do You Know Your Levels?
Designed for all school ages, including sixth forms and colleges, this poster outlines the different levels of education, showing options for Work-Based Learning, Vocational Related Learning, and Academic Learning. It's an ideal tool to help students envision their progression towards higher levels of education.
Levelling Up
In the style of a retro arcade game, this fun and engaging poster illustrates the various levels of education and the options available to students, from GCSEs and NVQs to Degree Apprenticeships, PGCEs and Masters.
Find Your Own Treasure
This interactive poster inspires students to view their career journey as an exciting adventure, not just a destination. It's a perfect way to stimulate lively careers discussions and help students discover the many paths to their future.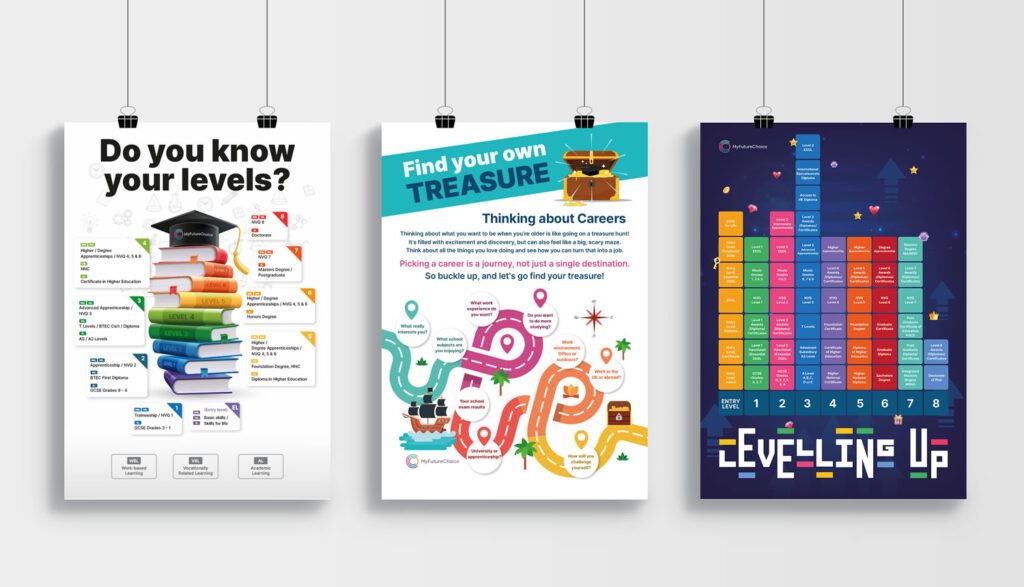 DOWNLOAD THE CAREERS POSTER PACK BELOW
To receive your free pack of career posters, simply complete the form below. We will email the posters directly to your inbox for easy downloading and printing. We're committed to helping you inspire your students to make informed decisions about their future.
Request Your Careers Posters